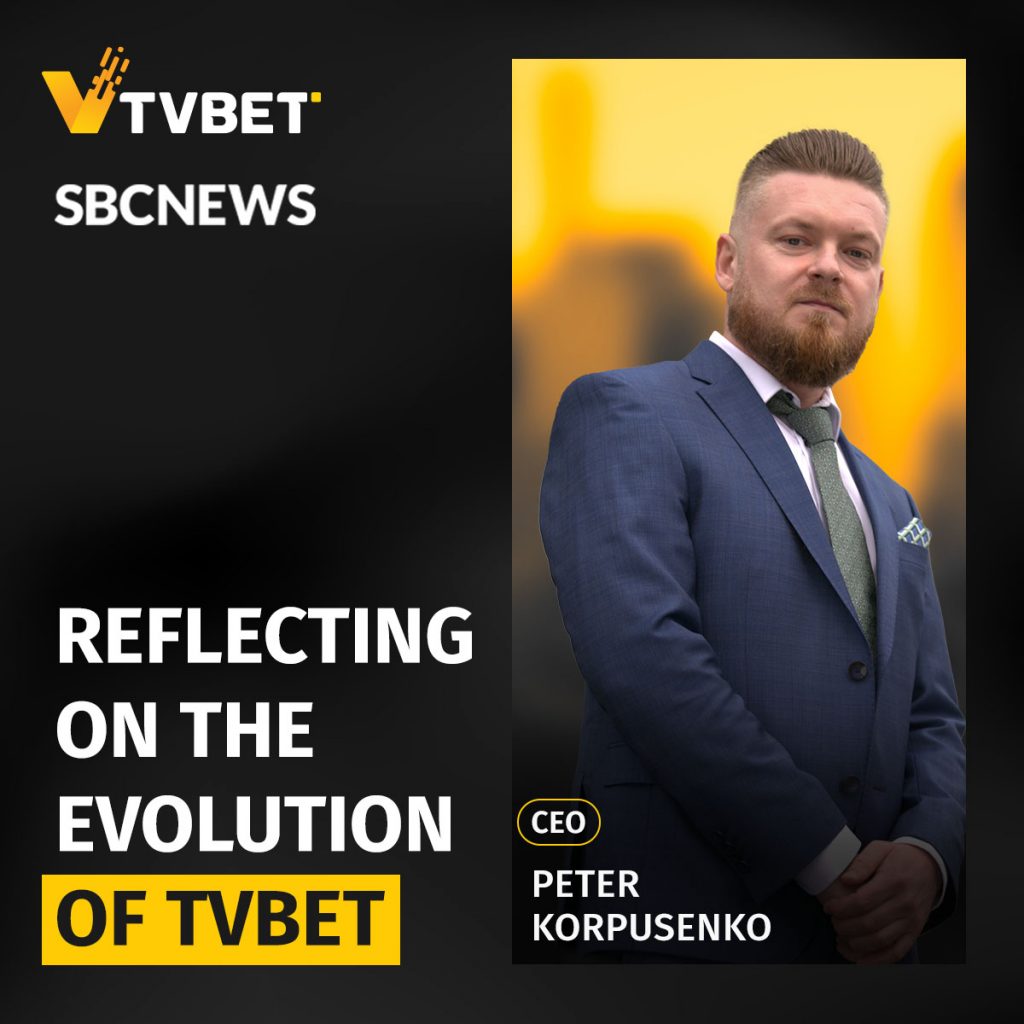 Since making its debut on the international gaming stage back in 2019, TVBET has undergone some tremendous changes – having grown its products, employee numbers and number of partners.
Speaking to SBC News, TVBET CEO Peter Korpusenko (right) discusses the company's growth, overcoming the challenges posed by the COVID-19 pandemic and the war in Ukraine, as well as plans for the future.
Firstly, thank you for taking the time to chat with us! So take us back to 2019 when TVBET made its 'big entrance' to the igaming community. How did people initially react to what you had to offer?
Hello, Erin! Thanks for the opportunity to talk to you. Yes, let's start by talking about the beginning of our long journey in the igaming space. In 2019, we fully entered the market with our offering and during that year, we visited about 14-15 exhibitions in all corners of the world. It was certainly difficult, but very exciting and useful for us.
The largest exhibition for us was, of course, ICE London 2019. And going by the feedback from colleagues and partners, we showed a super-class offering at the event. At the time, we built a stand with four of our live games with the ability to make bets right at the exhibition! Some of our partners even asked if they could host these streams on their platforms. This helped everyone to really plunge into our games, study our software and visually see how everything works. We managed to achieve three goals at the exhibition:
Show how studios work from the inside;
Show how the online version of the product performs;
And also demonstrate how the land-based solution works.
So we believe that 2019 was really significant for us – the year of our big entry into the market. And we still remember ICE London 2019 and are proud of the results achieved then. In general, it was a very outstanding exhibition, and in addition to the presentation of games, we also held a lot of drawings, gave cool gifts, made top promo videos, and showed the industry and ourselves how fantastic a booth and product presentation could be.
What have been the biggest changes in the company since that time?
After that, we continued to actively develop our product, adding new games to the portfolio, developing the retail product, integrating our games online and offline, and optimizing existing games. In general, very productive and benchmark work was done. However, then COVID-19 happened, which slowed down not only us but the industry as a whole.
COVID-19 undoubtedly had a huge impact on the betting and gaming industry – how did TVBET shift its focus to overcome these challenges?
The biggest problem during COVID-19 was the unpredictability. Everything slowed down: development, recruitment, PR, marketing. The whole world was scared, many companies closed, jobs were slashed, and many people faced a financial and not only crisis. And in general it was not known what would happen next and how.
But we decided not to rush into any decisions, to focus on development, and this helped us overcome difficulties. We didn't fire any employee, didn't close any game, didn't stop the work in the office, but on the contrary, we even made a lot of important improvements in the software, increased the staff, and even developed and added new games! Perhaps, at that moment, we could be called crazy, but we stood our ground and accepted this challenge!
Thanks to our fortitude and self-confidence, we ended up with big pluses! We saw huge increases in performance: the number of new partners increased by 30%, the number of bets on our games increased by 300%! It was an incredible boom, which, of course, once again showed us that we are on the right track!
We recorded the results of our work in a small but lively promo video, which, by the way, also appeared on your site.
Read the full interview by the following link.